The NewBridge Project is an artist-led space supporting artists, curators and communities. They provide studio and workspaces, a community hub, artist development programmes alongside commissions, exhibitions and projects.
Established in 2010, they're currently in the middle of moving to their brand new home at the Sheffield Centre, Newcastle. The move from Gateshead to Newcastle means getting to put down roots and build relationships in a whole new community.
The team wanted a way to better understand and celebrate the relationships and connections built over the past four years in Gateshead. As well as understand their impact better as a whole. They wanted a new and creative way to tell the story of the success of The NewBridge Project.
Gaining a new perspective on impact
Having previously undertaken network mapping exercises and gathered a range of impact data, this time they felt an alternative approach was needed. NewBridge wanted help to evidence all the invisible stuff that goes on in their organisation. They wanted a way to visualise and better understand just how they support people to grow enriching relationships. They wanted to see if relationships created through the team and in their building had resulted in greater social capital. And ultimately, understand if they have created a bigger difference with their work due to the ways in which they support and connect with people.
To gather evidence and uncover some of these answers, the team are currently taking part in AKOU's Collective Perspective Journey.
What happens on the Collective Perspective Journey?
Our Collective Perspective Journey takes teams on a voyage of impact discovery. Individuals learn about their relationship building style. They exploring how they connect with others and see what value this brings to the wider team. Each team member has a 1-to-1 session with, giving them time and space to explore their traits as a connector.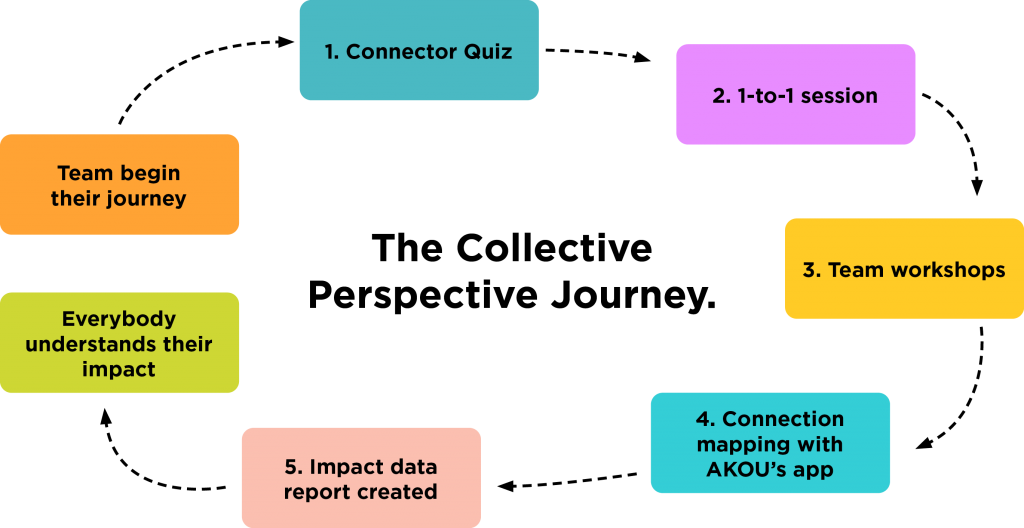 Next our group workshops help the team to collectively investigate topics around impact and networks. Leading to the use of the AKOU app. Team members and the community connected to them will start to map and show value to the people connected to NewBridge's projects, programmes and events. They will uncover and share how these connections have brought inspiration, joy, knowledge and a sense of belonging.
A shared journey of discovery
We're really excited to work with NewBridge and take them on their Collective Perspective Journey. For us it feels much like a two pronged journey of discovery. As an organisation they want to get to the bottom of some fascinating questions. Many of which we have a keen interest in exploring too.
We will use our approach, tools and methods of mapping relationships to surface the invisible exchanges that happen between people in the NewBridge network. And in the process see if this helps to reveal more opportunities for collaboration or pathways for engagement.
Our Collective Perspective Journey will bring the NewBridge team, artists and individuals in the wider community together to explore how connected people feel. A central theme of this process will be to understand if seeing one's connectedness means an individual can discover new things about their value and social capital. Does it help them to feel a greater sense of wellbeing and to feel more confident? Can the act of seeing the different layers of your relationships, and the nuances of your relationship building skills help to make a difference to your personal growth and development?
We hope to have some fascinating insights to share with you at the end of the journey.